Selling a high-end home? Here's what you need to know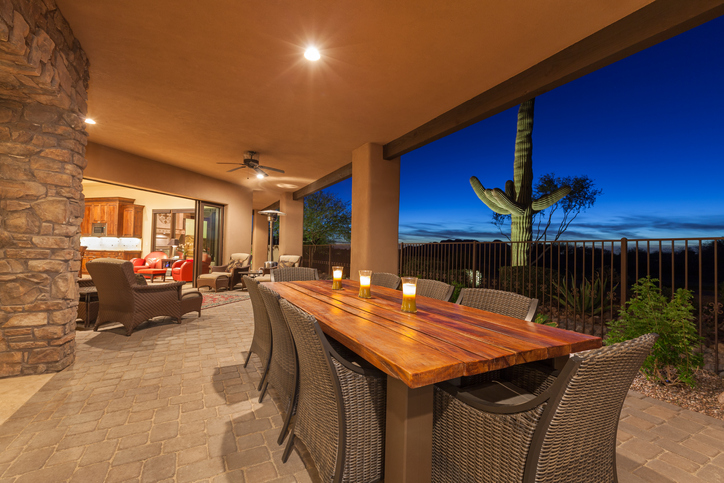 When selling a luxury home in the greater Palm Springs area, you're not just selling a piece of property – it's all about selling a lifestyle. In order to get a top-dollar offer, you'll need to know how to properly market your luxury home, attract the right buyers, and use every advantage available to outsmart your competition.
Compared to selling a traditional home, putting a high-end home on the market can often be a very different experience for luxury home sellers. You need a highly focused approach right from the start in order to separate the home from other luxury homes for sale in Palm Springs and the surrounding area currently on the market.
Here are several important tips on how to sell Palm Springs area luxury homes:
Pay Attention To Even The Smallest Details
When marketing a high-end home, you need to establish a perception of unmatched quality. This requires a highly-refined approach to showcasing every aspect of the home, focusing on even the most minuscule details.
This obviously applies to the most important parts of the selling process like staging the home, but should also extend to such things as the content of your marketing materials. Poorly written descriptions, subpar photos, and horrible layouts can negatively impact how prospective buyers view your home.
Create Impact Online
In a recent study conducted by the National Association of Realtors (NAR), 85% of buyers found information on properties online very useful during their search. 87% of buyers who viewed property photos on the internet also found them very helpful during their home search.
It goes without saying that you will need a unique online presence to market your luxury home. Rather than go with generic-looking, template websites, consider hiring a professional web designer to create a customized site equipped with the best marketing tools. Keep in mind that you are entering a highly competitive market, so you want to make use of every advantage available.
Zero In On Your Buyer
Every part of your marketing strategy should focus on the needs and preferences of your target market. Try to approach your marketing plan by imagining yourself as the buyer. What are some of the things you'd like to know if you were the one looking for a luxury home?
Should you highlight the top-performing schools in your area? Add more photos that showcase the breathtaking views? Are your home's features made from quality materials?
Hire a Professional Home Stager
Staging your home is a key part of the selling process. It helps buyers imagine themselves living there. An excellent staging job can be highly effective when it comes to luxury homes, as they're often customized to suit individual tastes. While you don't need to renovate everything completely to cater to a new owner, prospective buyers should at least see the potential in making the home their own.
Staging is no simple task, and it can be stressful and time-consuming to do it on your own. A professional stager will be there to guide you throughout the process and will know exactly what to do to optimize your home and highlight all of its unique features to entice prospective buyers.
Do Away with Public Open Houses
Accommodating appointment-only viewings and ditching the public open house will help you cultivate an air of exclusivity for your Palm Springs luxury property. This will make buyers feel as if visiting your home is a privilege.
Additionally, it helps save more time, as you won't need to worry about setting up your home to host an open house, which will likely attract non-buyers who are just curious about seeing your home's interior. Besides, most luxury buyers won't bother dropping by a public open house once they are already set on buying a home.
You might think you're limiting your buyer pool by doing this, and you're absolutely right. In the greater Palm Springs luxury market, it's more about getting the right buyers to see your home than getting as many people as possible to walk through your doors.
Create a "Brand" for Your Luxury Home
When trying to market and sell something – whether it's a service or product, one of the most effective ways is to create a distinct identity for it. This applies to homes, too. This doesn't mean you have to go overboard by referring to or speaking about your home in a certain way.
All you need is a focused strategy that you can apply to all of your marketing materials. You can hire a graphic designer to create a custom logo for your home and apply it to all of your content.
You can also consider writing a catchy slogan. It doesn't need to draw too much attention, but it should serve to anchor your entire marketing strategy.
Need more information on how to get your luxury home ready to sell in Palm Springs, La Quinta, Palm Desert, or Rancho Mirage?
Partner with Award-winning Greater Palm Springs Area Luxury REALTOR® – Elaine Stewart
Elaine Stewart is an award-winning luxury REALTOR® in the greater Palm Springs area with over 25 years of local experience working with buyers and sellers. Elaine's commitment to friendly, professional service and her expertise in the luxury market will give you the assurance you need for making the best home purchase decision or selling your home for the highest market price in the least amount of time possible. Get started on finding your dream home today by calling Elaine directly at 760-668-2399 or you can get in touch with her here!
Elaine Stewart
RE/MAX Consultants
Mobile Direct: 760-668-2399
Email: [email protected]