Security and Privacy: Greater Palms Springs Luxury Home Must-Haves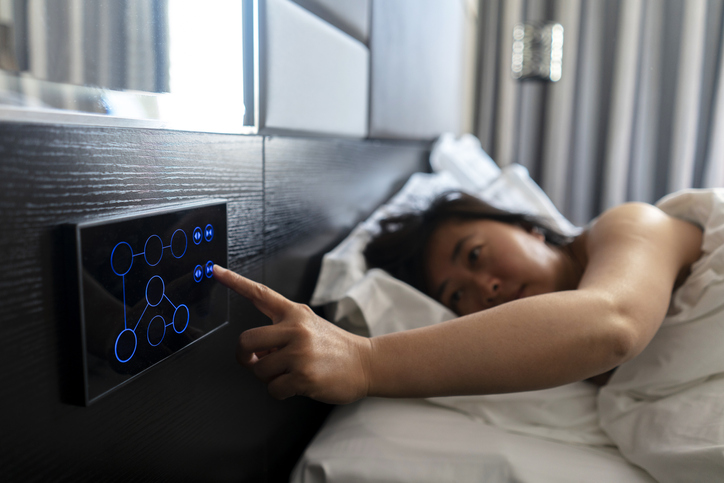 Privacy is the ultimate luxury, and high net worth individuals are willing to pay a premium for security and seclusion. For sellers, it's important for Greater Palms Springs area homes for sale to have the latest technologies in security and monitoring in order to attract high-end buyers who maintain a luxury lifestyle.
Residential Security Systems
Closed-circuit television (CCTV) systems have come a long way since they were first installed in 1942 to observe rocket launches in Germany. Today, they are a basic security requirement for a high-end private residence. Face recognition has made it easier for the police to identify assailants and intruders.
Connectivity. Homeowners want to be able to check their property and see if their loved ones have arrived safely from work and school. A convenient way of doing this is through smartphone apps that allow users to monitor their homes with a press of a button.
Police response capability. CCTV systems must be monitored and have the capacity to alert the police in case of intrusions. In many exclusive neighborhoods, homes are monitored via live police cameras.
Home surveillance. CCTVs inside the home are ubiquitous yet hidden. These are often concealed by smoke detectors that are placed strategically in the corners of the rooms instead of the center, or thermostats that are too high to reach, and therefore command a bird's eye view of the room.
This type of surveillance is used not just to monitor family members, but also staff, particularly when it comes to estates that employ a large number of cooks, cleaners, gardeners, and drivers.
Alarm Systems and Sensors
Artificial intelligence (AI) is currently in the front line of security, with machine-learning technologies gleaning data from infrared motion sensors, thermal imaging, and CCTVs. These alarm systems and sensors are able to distinguish movement between human intruders and wild animals like coyotes and mountain lions.
Locks and Entry Points
It all starts with the main gate and the front door. Discerning buyers will insist on retina and fingerprint activated locks that make it impossible for unknown individuals to enter the property. Programmable keys will also restrict staff and guest access to the home. This type of technology controls when, where, and how they may enter, as well as determine how long they can stay on the grounds, and in which areas.
Blast-resistant Glass
Greater Palms Springs area luxury homes often contain valuable items like artwork, jewelry, gadgets, antiques, crystal chandeliers, and more. To keep personal belongings safe, luxury homeowners demand blast-resistant windows and glass displays. Vinyl polymer-coated glass can help deter smash-and-grab robberies. The installation of quick-acting window shutters can also block off key areas from intruders, or at the very least, trap them in the room until the police arrive.
Panic Rooms
Every luxury home must have a safe room where homeowners can retreat with their family members during a break-in. Many homeowners designate the master bedroom as the safe room, reinforcing it with steel doors and fortified walls.
Safes and Alerts
Prized items, such as antiques and artwork, are often coated with a unique solution to make them identifiable in case of theft. Homeowners often set up stolen asset alerts with art dealers, auction houses, and the police in case anyone tries to resell their belongings. Those who use old school safes and vaults to store valuables must have at least two codes – one for regular use and another that can be used to send an alert to the police when the homeowner is being forced to open it.
Natural Deterrents
Aside from gates and fences, Greater Palm Springs area luxury property for sale must have natural barriers in the form of prickly plants along the perimeter and various entry points to deter intruders from entering. Intruders who cut themselves on plants and thorns are leaving behind DNA evidence that can be traced back to them.
Research
Forewarned is forearmed, so high profile buyers often ask who their neighbors are, where they might find helicopter evacuation sites in case of emergencies, and so on. They often run strict background checks on their security personnel, house staff, and bodyguards to make sure everyone who works on the premises doesn't have prior criminal records.
Private Security
Top-tier buyers often turn to security agencies for well-trained security personnel. These bodyguards are tasked with accompanying their employers whenever they venture out of the house. They are often the first line of defense when it comes to protecting their clients in crowded places and during a physical assault, as well as instances of stalking, harassment, and other common threats.
Greater Palm Springs Luxury REALTOR® – Elaine Stewart
Whether you're looking to purchase luxury real estate in the Greater Palms Springs area or it's time to list your current property, Elaine Stewart provides the kind of knowledge, skills, dedication, and personalized service you need and deserve. One of the things Elaine loves most about being a luxury home specialist is being able to share the joy that her clients feel when they find the luxury home of their dreams.
With over 25 years of local experience, Elaine is very familiar with the Greater Palms Springs luxury market, which is an asset that her clients quickly come to appreciate. Although the market is always changing, Elaine's commitment to exemplary personalized service is unwavering. She will take the time to listen to your needs and concerns and will always have your best interests in mind – her phone never goes unanswered.
Elaine truly understands how important it is to build trust and long-standing relationships with all of her clients and prides herself on her many client referrals over the years. By partnering with Elaine, you'll have a luxury home expert by your side who will protect your interests, advocate for you, and handle the complexities of the real
estate transaction for the best possible outcome.
If you would like to learn more about buying or selling Palms Springs area luxury real estate, feel free to call Elaine directly at (760) 668-2399 or get in touch with her here.