How to Create the Perfect Spa Bathroom for Your Palm Springs Luxury Home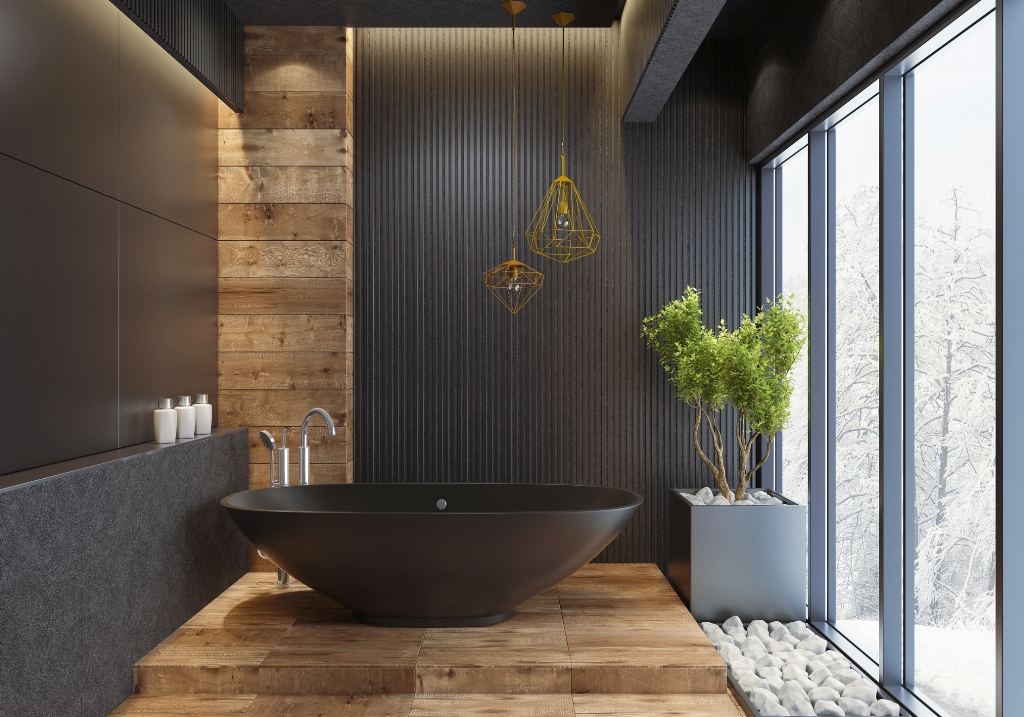 Having a luxurious, spa bathroom in your own home is like having a personal retreat designed to reduce stress, promote well-being, and provide relaxation.If the thought of creating a rejuvenating oasis at home sounds enticing, the good news is that you don't have to perform a major renovation. With just a few simple updates, you'll be able to create a soothing environment similar to what luxury spas in the finest Palm Springs resorts offer.So without further ado, here are a few tips on how to enhance your Palm Springs luxury lifestyle by creating a spa-like bathroom:
First, Get Rid of the Clutter
The first step in creating a spabathroom is to make sure its clutter-free. Creating a clean, relaxing, and organized space will be impossible if you have too much stuff lying around.Start by collecting and sorting all of your bathroom essentials. Neatly rearrange items you'd like to retain, and put everything else in storage or in a different part of your home. You can also consider adding efficient bathroom storage solutions such us makeup organizers, heat-resistant containers for hair styling devices, stackable baskets, or under the sink tiered storage trays.Don't forget to wipe surfaces clean once you've cleared the clutter.
Add a Touch of Nature
Adding a few plants to your bathroom will not only enhance its appearance and create a tranquil setting, but will also make it a healthier environment. You can hang some potted plants from the ceiling, add a vase of fresh flowersor display several small plants, cacti, or succulents along the ledges or counters.
Since most bathrooms tend to have high humidity, low light levels, and warm temperatures, you'll need to find greenery that can thrive in this type of environment. Cast-iron plants, bamboo, dieffenbachia, Chinese evergreen, and philodendron can survive with medium to low light, while plants such as the snake plant and ivy can help filter out harmful toxins from your bathroom air.
Create a Softer Look
A spabathroom is a perfect place for soft, fluffy textures! Placing items like fuzzy slippers, plush bath mats, comfy robes, or a stack of clean towels will effectively create a spa-like feel right off the bat. Even take it to the next level by installing a towel warmer so you can enjoy the comforting warmth of heated towels after you indulge in a reinvigorating bath.
Install a Rainfall Showerhead
Installing a luxurious rainfall showerhead is one way to enhance the spa-like feel in your bathroom. Most high-pressure rainfall showerheads make use of air pressure to enhance the water and can keep its temperature warm or cool depending on your preference.Another option is to go with a steam shower, which will definitely take your bathing experience to new heights.
Use Calming Colors
The color palette you choose for your home spa will set the tone.Neutral colors such as beige, white, and muted browns and grays workwell for defining a soothing space that encourages relaxation. Try mixing in some subtle shades by adding decorative items, artwork, and plants. If you want to create a romantic feel or add a more feminine aesthetic to your bathroom, consider using soft shades of pink or adding décor or artwork with a floral theme.
Use Lighting to Your Advantage
Elegant lighting fixtures such as wall sconces, chandeliers, and recessed lighting can add a touch of sophistication to your spa bathroom. One of the best ways to create a dramatic lighting effect is by using multiple fixtures – try to mix and match to see which combinations work best. Also consider installing dimmer switches, as these can create a cozy candlelight effect.
Add Relaxing Scents
One of the first things younotice as you step into a spa is the calm and relaxing aroma. Consider using aromatherapy scents to create a calming effect and complete the entire spa ambiance. Try not to make it too overwhelming – just a small hint of lavender, fresh mint, tea tree, eucalyptus, vanilla, or jasmine will work wonders, and won't be too harsh for those who might be sensitive to scents.You can also consider adding scented candles, potpourri, and essential oils to create a tranquil oasis that brings relaxation to your everyday life.
Partner with Top Palm Springs Area Luxury REALTOR® – Elaine Stewart
Elaine Stewart is an award-winning luxury REALTOR® in the greater Palm Springs area with over 25 years of local experience working with buyers and sellers. Elaine's commitment to friendly, professional service and her expertise in the luxury market will give you the assurance you need for making the best home purchase decision. Get started on finding your dream home today by calling Elaine directly at 760-668-2399 or you can get in touch with her here!
Elaine Stewart
RE/MAX Consultants
Mobile Direct: 760-668-2399
Email: [email protected]