Palm Springs Homes for Sale in Vista Las Palmas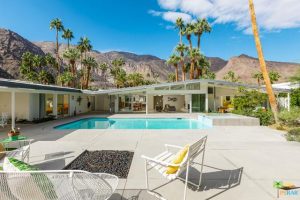 Palm Springs Homes for Sale in Vista Las Palmas:  Situated at the base of the San Jacinto Mountains, Vista Las Palmas is one of the most desirable and iconic communities in Palm Springs, CA. Known as the Beverly Hills of Palm Springs, Vista Las Palmas was once the world's most celebrity-packed neighborhood of modern-day tract homes. Frank Sinatra, Dean Martin, Joey Bishop, Sammy Davis, Jr., Peter Lawford, Cyd Charisse, Marylin Monroe, Debbie Reynolds, and other notables lived and socialized in Vista Las Palmas over the years.
 Be sure to scroll down below to learn more about Palms Springs real estate in Vista Las Palmas and living in this cosmopolitan city:
Browse Palm Springs Homes for sale in Vista Las Palmas
Sorry we are experiencing system issues. Please try again.
If you would like to view any of the above listings for Palm Springs real estate in Vista Las Palmas or would like more information about pricing, property details, the neighborhood, financing options, surrounding area amenities, nearby attractions, local community developments, and more, please give highly-rated Palm Springs REALTOR® – Elaine Stewart a call today at (760) 668-2399 or you can reach her here.
More About Palm Springs Real Estate in Vista Las Palmas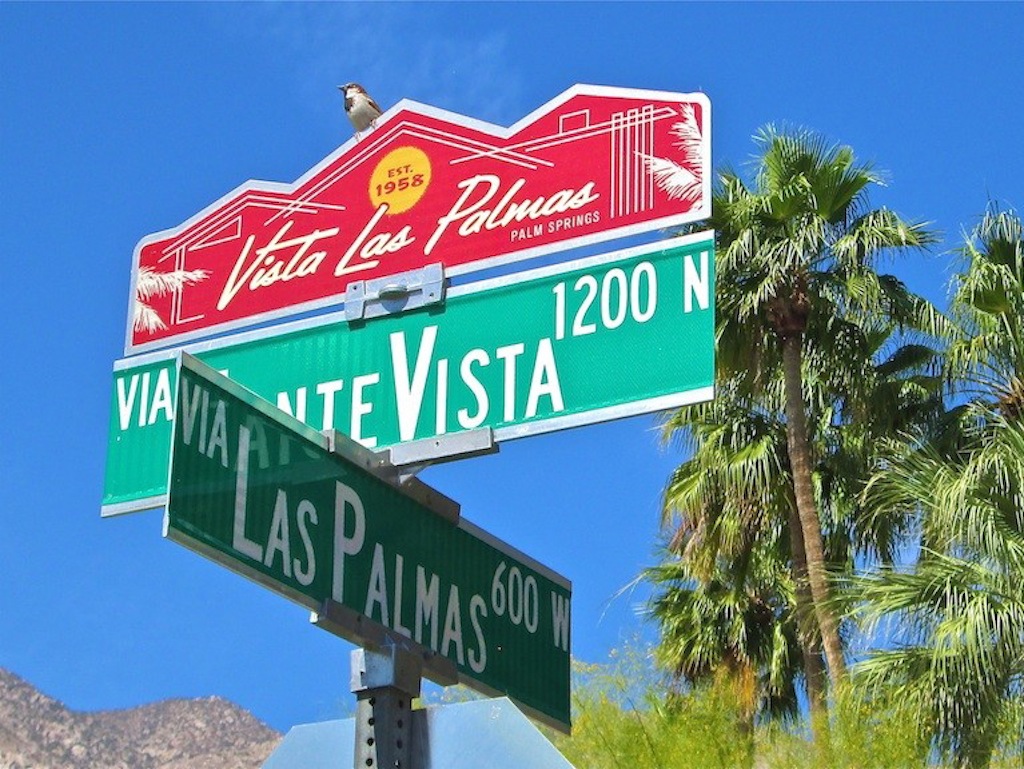 The neighborhood of Vista Las Palmas began construction in 1958 and achieved immediate cachet due to its location just west of one of Palm Springs' most classic neighborhoods, known today as Old Las Palmas. In Vista Las Palmas, you will find a mix of architecture and a unique collection of around 375 homes. The neighborhood is filled with mid-century modern homes such as the designs of architects William Krisel and Charles Dubois, which were built by the Alexander Construction Co. 
Homes designed by Krisel were rectangular and open and included a breezeway separating the carport from the living area. Krisel also popularized the butterfly roof (two panels that meet in the middle of the roofline and slope upward and outward, like open butterfly wings) originally designed by Swiss-French architect and Modernist pioneer Le Corbusier.  The butterfly roof became Krisel's Southern California design trademark. Designs by Charles Dubois included a double, single-story home known as Swiss Miss, fronted by large, two-story A-frame-eaves, shingled roofs, and 18-foot walls of glass offering dramatic views.
Since the late 1990s, many of the homes in the Vista Las Palmas neighborhood have been remodeled, some back to their original glory in great detail or modernized with upgrades in keeping with the original design. Real estate agent and remodeler – Mark Anton has restored a total of 11 houses in the neighborhood since 1997. "Whatever I've done," he says, "has been in character with the house." People knew Vista Las Palmas had returned at the start of 2003 when Anton sold the first home in the neighborhood for $1 million, which had become a symbol of Mid-century modern architecture. Most Palm Springs homes for sale in Vista Las Palmas are priced at one million to 3 million-plus.
Why You Should Consider Living in Palm Springs, CA
World-class shopping and restaurants, art & culture galore, popular events, some of the best golf clubs in the country, and an abundance of outdoor recreation options make Palm Springs a destination of choice for Southern California homebuyers.
Popular attractions in the area include Palm Springs Aerial Tramway, The Living Desert Zoo and Gardens, Indian Canyons, Palm Canyon Drive (Downtown Palm Springs)  Palm Springs Art Museum, and Moorten Botanical Gardens, just to name a few.  Every Thursday evening in downtown Palm Springs, you can enjoy a diverse array of artists, artisans, entertainers, fruits & vegetables, fresh flowers, jewelry, and international cuisine.
The Palm Springs area is also home to more than 100 golf courses and one of the largest tennis venues in the world, Tennis buffs will appreciate the BNP Paribas Open in Indian Wells and golfing enthusiasts can enjoy the Desert Classic Tournament (a favorite stop on the PGA Tour) and the LPGA ANA Inspiration.
We are seeing many buyers leaving the big city because they can own a great home in the Palms Springs area for less than half of what a comparable home would cost in Los Angeles or Orange County. There are plenty of second-home buyers and investors as well. Buyers who like Palm Springs homes for sale in Vista Las Palmas may also like to consider these other great communities:
Old Las Palmas
The Citrus La Quinta
Palm Springs Heights
Partner with Top-rated Palm Springs REALTOR® – Elaine Stewart
Whether you are interested in Palm Springs homes for sale in Vista Las Palmas or you are ready to list your current property, experience matters most in a changing market. With over 27 years of experience in Palm Springs and neighboring communities, Elaine provides the kind of knowledge, skills, dedication, and local expertise you need and deserve. She is a proud member of the RE/MAX Platinum Club and RE/MAX Hall of Fame. As your personal agent, Elaine will protect your interests and work hard for you to ensure a smooth and successful transaction.
If you or someone you know is interested in buying or selling Palm Springs real estate, please call Elaine directly at (760) 668-2399, or you can get in touch with her here.
Elaine Stewart
RE/MAX Desert Properties
1775 E. Palm Canyon Dr. Suite #610,
Palm Springs, CA 92264
Mobile Direct: (760) 668-2399
Email: Desertrealestate1 @ yahoo.com
BRE # 01169846